This post comes to us compliments of Melissa Corrente. Melissa is a part-time instructor of Health and Physical Education studies at the Schulich School of Education at Nipissing University, North Bay. She was one of the 30+ representatives from the Nipissing community who went to Ottawa to present at the 2015 Canadian Society for Studies in Education (CSSE) national conference. We'd like to thank Melissa for her excellent piece highlighting the value of both presenting at and attending conferences. 
I am slightly embarrassed to admit that the end of May marked the first conference I have ever attended. "The Canadian Society for the Study of Education (CSSE) is the largest organization of professors, students, researchers and practitioners in education in Canada. CSSE is the major national voice for those who create educational knowledge."[1] I am puzzled as to why I didn't I attend or present at any conferences during my MEd journey. My thesis is a piece of work I am still incredibly proud of; I have, however, never shared it with a larger audience. I guess it's never too late to revisit it, or reflect upon it with a new lens.
Getting back to the conference, I felt very anxious and nervous about presenting my paper in a roundtable format. Would I be able to answer all the discussants' questions? Is my purpose clear enough? What kind of atmosphere will there be? After getting over my self-doubt, other logistical concerns started to surface. Is my Aunt's house baby proof? How will I fit the stroller, baby gate, high chair, and play pen in the car? What will my husband and 14 month old son do while I am at the conference? Will there be too much morning traffic to commute from Kanata to Ottawa? All the minor details worked themselves out as I left Saturday morning with my husband and son in tow. After driving for three and a half hours, we arrived at my Aunt's house. She was out getting groceries when we arrived, so I changed and fed my son on her front porch as curious neighbors looked on. Financially, I am very grateful to stay with family because it adds up quickly when you factor in hotel, travel, and meal expenses.
Sunday morning marked the beginning of my CSSE conference experience. After registering and donning my nametag, I toured around the congress expo to browse through the variety of literature for sale. Feeling a tad bit overwhelmed about what to do or see next, I decided to find a table and sit down. All the tables were occupied, so I asked a woman sitting by herself if I could join her. She was very friendly, and we started chatting about where we were from and what our research interests were. She mentioned that she recently defended her dissertation and was presenting her results at the conference. Upon explaining my interest in researching graduate student mothers, her eyes lit up! She was so excited as she described that one of her colleagues started a graduate mother support group on her campus. A group of graduate mothers would meet at a local coffee shop and would write for 45 minutes uninterrupted. Once the time expired, they would share their writing and support each other with constructive feedback. I had only been at the conference for 10 minutes, and I already developed a wonderful relationship with someone I am definitely going to keep in touch with. After saying goodbye to her, I realized the true value of relationship building while at a conference.
On Sunday afternoon, I attended a wonderful multi-paper session. I left this session feeling inspired and reassured that my topic is valid and important. I developed a great connection with a presenter who is also a graduate student mother. Her presentation and research were well articulated, and after chatting we discussed collaborating on a piece of writing down the road.
Monday morning, the day of my roundtable presentation, arrived quickly, and I ran around my Aunt's house trying to pack up my belongings before heading to the University of Ottawa. Instead of preparing for my presentation, I was feeding my son while simultaneously trying to remove two cats off the kitchen table. After packing and preparing food for the trip home, I realized it was already time to go. Luckily the morning rush hour traffic only lasted for part of the trip, because I wanted to arrive early for my roundtable presentation.
Once I located the correct building and walked up two flights of stairs, the room was not what I had pictured in my mind. It was very small and the tables were not set up, let alone round in shape! Once all the tables and chairs were organized, most people gently nudged their way through the organized chaos. I found table #16 and met the other two presenters and the faculty and graduate student discussants. The woman I had met the previous day even came to attend my presentation, which I genuinely appreciated. The room was buzzing with energy and ideas; everyone was tightly packed into the room like a box full of crayons. Each person at my table was unique with their own research colour and contribution to the greater whole just like the crayons.
One hour and fifteen minutes was the time allotted for all three graduate students to present while leaving room for discussion. I had the luxury of being the middle presenter, so I adjusted my plan based on my observations of the first presentation. My plan was to talk for 10 minutes, and dedicate the remaining time for feedback and discussion. The first presenter was extremely passionate about her research; however, there was no time left for discussion. When my turn came to present, I started with a brief autobiography to help everyone understand what influences my work. The idea of a research puzzle resonates with me so I handed out four puzzle pieces to represent my paper with photos on the back. Overall, I felt good about my presentation, and I enjoyed sharing my paper with an academic audience.
The feedback I received was invaluable! I plan to make changes to my paper to further my thinking and improve the quality of my writing. The time flew by, and our whole table admitted that we could've discussed each paper for much longer. There is something to be said about interacting with other academics face-to-face. This human connection and relationship building was a very worthwhile and rewarding experience. Skype and email are fantastic communication tools, but personally sitting down with a group of people and engaging in face-to-face dialogue wins every time. If you have the opportunity to attend or present at a conference, I highly recommend taking advantage of the opportunity. You have nothing to lose; in fact, you will gain valuable relationships and feedback to help move your scholarship forward.
Happy Building!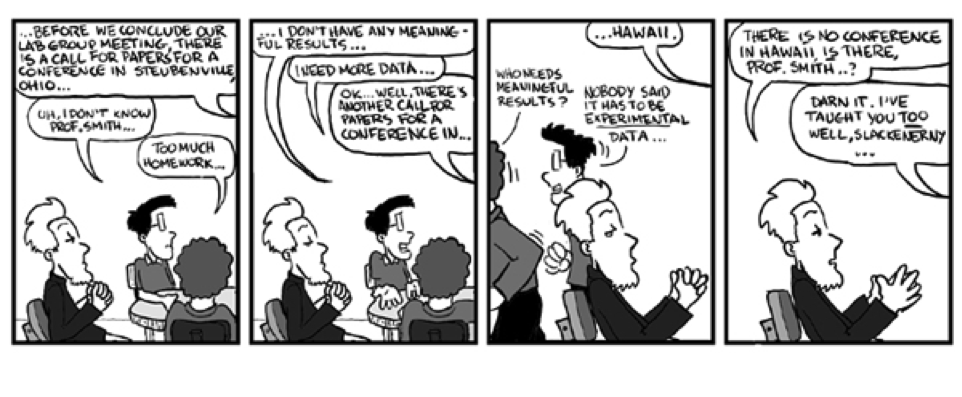 [1] http://www.csse-scee.ca/about/