A big thank you to all who participated in this week's Education Graduate Student meeting!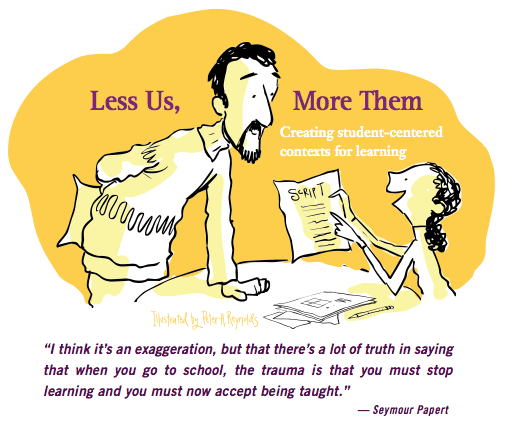 Ellen Martin facilitated this week's article discussion and presented the group with several theoretical frameworks representing specific levels of student-centred learning. More specifically, these frameworks were divided into three sub-categories including: learning centred on students, learning centred on teachers, and learning centred on the reciprocal student-teacher relationship. Many related topics were discussed including: the hidden curriculum, un-schooling, the importance of curriculum and standards, and several perceived unsuccessful methods to teaching and learning.
Further, the following potential pedagogical solutions were offered to ameliorate both teaching and learning:
• Offering student choice.
• Ensuring that instruction and learning is meaningful, authentic, and relevant to all students.
• Reducing class-sizes to allow for more student directed learning, project-based learning, and true inquiry.
After Ellen's wonderful article discussion, the group's focused shifted to gender differences in the current education system. Among many influencing factors that were brought up, the following stood out:
Sex as a biologically constructed factor; gender as a socially constructed factor.
Perhaps gender differences can be attributed to adults' preconceptions of gender and gender appropriateness, not those of young children.
This week's discussions permitted a respectful debate and a variety of perspective adding a wealth of richness to presented ideas and themes.
The next EGS meeting will take place Thursday, April 23rd from 6-7pm (EST), and will be hosted by Michelann Parr and Marianne Vander Dussen. We will be offering Skype again to accommodate all distance students. We hope to see you there!