This post comes to us compliments of Melissa Corrente. Melissa is a part-time instructor of Health and Physical Education studies at the Schulich School of Education at Nipissing University, North Bay. We'd like to thank Melissa for shining some light on the comprehensive exam, and for demystifying the PhD rite of passage with such humour. 
For those who are unfamiliar with the PhD comprehensive exam, allow me to briefly explain the process involved. In order to apply for the exam, a student must complete all three core courses and two consecutive summer residencies in addition to three elective courses taken at the students' leisure. The exam itself consists of two written responses to questions surrounding a student's theoretical framework(s) and methodologies. As a student, you want to demonstrate knowledge of your intended research area and how it fits inside the bigger picture. Understanding the connection to educational sustainability is important as well, because conducting research across disciplines helps one become educated. Once you have defined your area of research and completed the required reading in the areas covered by the questions, it is time to register a PhD Supervisory Committee. Supervisory committees will consult with, and advise, students to help them determine when they are ready to write.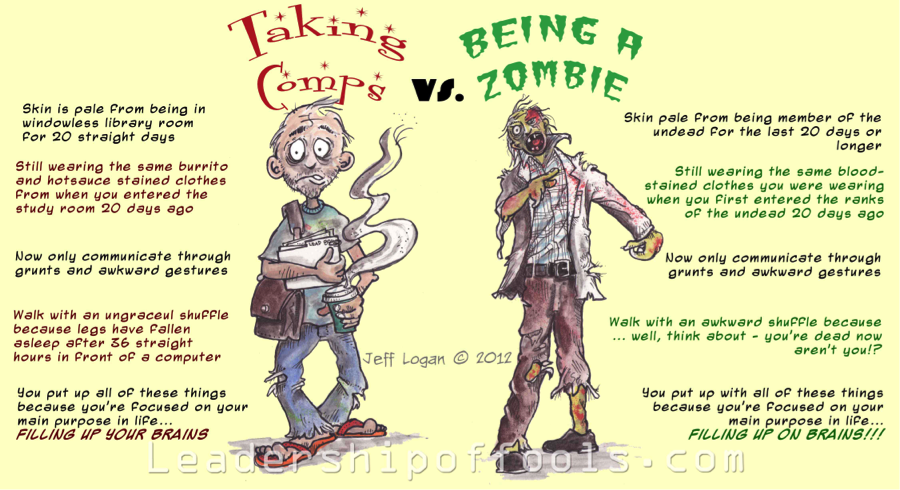 The exam has been weighing heavy on my shoulders for the last few months as I try to wrap my head around what is being asked of me. It feels overwhelming to focus on the 4000 word count for each question, and I feel this has stopped me from just sitting down and writing. If I wait for the perfect writing conditions to appear, I will never start, let alone finish. The idiom a penny for your thoughts provides me with some comfort because the graduate studies committee is asking me to explain my thought process. In reality, I shouldn't be allowed to write a dissertation if I can't clearly articulate my theoretical framework(s) and methodologies. While writing this piece, I received some very helpful tips and advice from those who have already passed their comprehensive exams. I would like to share with you the suggestions I received and personally thank Dr. Michelann Parr, Dr. Carlo Ricci, Dr. Carole Richardson, Glenn Hanna, and many others who anonymously provided tips.
Tips for the Comprehensive Exam:
Meet with your supervisory team to ensure that you are ready to proceed.
Ask questions prior to writing your comps.
Attend to the questions – do what you are being asked to do.
Write one question at a time.
Circulate a detailed outline of each question (complete with references) for feedback
Spell check, grammar check, and APA check not once, but twice!
Don't leave anything up to the imagination – say what you mean, and be as explicit as possible.
Don't make assumptions about what your reader should know; assume they don't
Consider the use of headings to guide the reader through your paper.
Make sure you use references wisely and avoid sweeping generalizations that are unsubstantiated by research.
Keep to your 4000 words.
Be clear about your topic, why you picked it, and what you are looking to do
Understand what other people have said about your topic and make that clear in the literature review.
Make sure you are clear on the theoretical framework.
Be clear on why you picked your methodology and why it is best for your topic
Offer an idea of what each section will consist of.
Say something about ethics re: the methodology question—show you understand the implications.
Address your theoretical framework in the methodology section because two different people mark the questions.
Research the history of your methodology, don't only focus on recent sources
The comprehensive exam is not your dissertation. Don't go deep into theoretical areas that are peripheral to your research. The learning was in figuring out what to let go of when writing.
Regarding methodology on the other hand, go as detailed as you can. Go from higher-level concepts, right down to the micro, all space permitting of course.
The other thing is the benefit of just starting to write. Start writing and it will show you where you are good to go and where you need to do more reading. Writing provides a focus.
If you are preparing to write the comprehensive exam in the near future, I hope you find the above tips useful. To finish off, I'd like to share a poem I wrote one night after my baby boy was sleeping peacefully in his crib. Enjoy!
---
'Twas the week before comp writing, when all through the house
my baby was crawling, and trying to play house.
The journal articles were filed in my office by name,
In the hopes that Michelann Parr would help me reclaim.
The APA guide was memorized in my head,
While I had sticky notes stuck to my bed.
And Dada in his uniform, and I in my jeans,
Had just settled our bums for our nightly reading routine.
When upstairs in the nursery, there arose such a farting,
I sprang from the couch to see what was starting.
Away to the staircase, I flew like a bird,
Tore open the diaper, and threw out the turd.
My MacBook on the office desk open wide
gave the appearance that the battery had died,
when, what to my sleepy eyes should appear,
but a power cord that will certainly help me persevere.
With a little bit of energy, luck, and good food,
I knew in a moment, I would feel gratitude.
More rapid than owls, my ideas started flowing,
And I wrote them all down as my face started glowing:
"Now APA! Now Framework!
Now, Dewey and Experience!
On, Narrative! On Inquiry!
On Discourse and Research!
To the top of the library!
To the online database!
Now search away! Search away!
Search away all!"
(Adapted from 'Twas the Night Before Christmas' by Clement Clarke Moore)