"So are you doing thesis, major research paper, or research project and seminar route?"
The first time you hear this question as a grad student, you may have the urge to panic, run away, or play dead. Many graduate students enter the program unsure of their area of interest, let alone if they wish to pursue that area of interest down the long and winding road to a thesis.
Although initially intimidating, being able to choose your path to the Master's is ultimately a sheep in wolf's clothing; it may seem frightening at first, but the ability to customize your path to the MEd is designed to serve your long-term career plans. Are you interested in eventually pursuing a PhD? Or are you acquiring your Master's to attain a new level in your chosen professional field, with no plans to further your academic studies? Knowing this will help you determine the best route for your lifestyle and goals.
Which door will it be? 1, 2, or 3?
In order to attain your Master of Education degree, you must complete the equivalent of 30 credits, and complete the two designated mandatory courses (Research Methods and Understanding Education). Each course is worth 3 credits. However, if you choose to pursue the thesis (worth 12 credits) you need only complete a total of 6 courses. If you choose to pursue the major research paper (or MRP, worth 6 credits) you will need to complete 8 courses. Choosing the research project and seminar route means taking a total of 10 courses, with a research component within the context of a directed course.
---
Thesis and MRP
If you have any plans or interest whatsoever in pursuing your doctorate down the road, it is strongly advised that you consider the thesis or major research paper (MRP) routes. Many doctoral programs will not even consider granting admission, let alone any kind of funding, without published work under your name. Alternately, they could ask you to submit a qualifying research paper as part of the application process.
PhD work is incredibly rigorous, and proving you're already capable of focused research and advanced technical writing will demonstrate to prospective programs that you're ready for the challenge (and hopefully deserving of some funding).
Even if you're not 100% confident that you do want to consider PhD right now, contact your faculty advisor to discuss your options. You don't necessarily need to know what you want to write about in advance, but odds are high that you can puzzle it out through consultation with a Nipissing mentor.
What's the Difference between a Thesis and MRP?
On the surface, very little: were you to go to the library and pull both a thesis and MRP, aside from the different coloured bindings, you probably would have a hard time telling the difference. The different lies in the scope; a thesis is very specific and concentrated in nature, while an MRP can be broader. Pursuing these routes will require fulfilling all the necessary steps to proceed with research; this will include ethics submissions, research proposals, establishing contact with potential research participants, and a lengthy data collection/analysis process.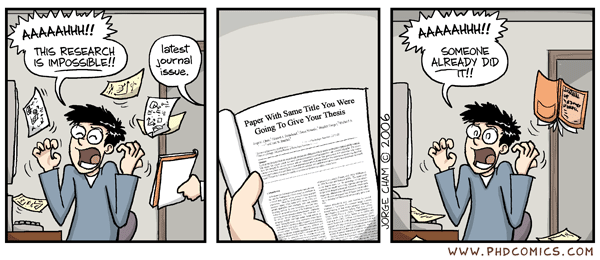 ---
Research Project and Seminar Route
That being said, many students choose to pursue the research project and seminar route, which allows you to complete your degree through ten structured courses, one of which guides you through the research proposal process. For some, the Master's is the only graduate degree they wish to pursue; an MEd often opens professional doors and enables you to pursue higher positions in your career. Depending on lifestyle, or limitations such as remote locations or time, courses provide the opportunity to become exposed to a wide range of professors, teaching styles, and information. Perhaps one course will speak to you and capture your attention and passion, develop a relationship with the professor, and deepen the work you're submitting to be able to count towards the research project and seminar component of your degree.
For more information, see the degree requirements page of Nipissing's Graduate Studies' site, and look under option e.
Written by Marianne Vander Dussen; validated by Michelann Parr .